Asset Publisher
What do the Kanta Services contain?
Blog - Citizens
Written on 17.04.2018
All blogs
What Kanta Services are there and who can use them? If you know Prescriptions, Patient Data Repository and My Kanta Pages, you have a good idea of the Kanta Services.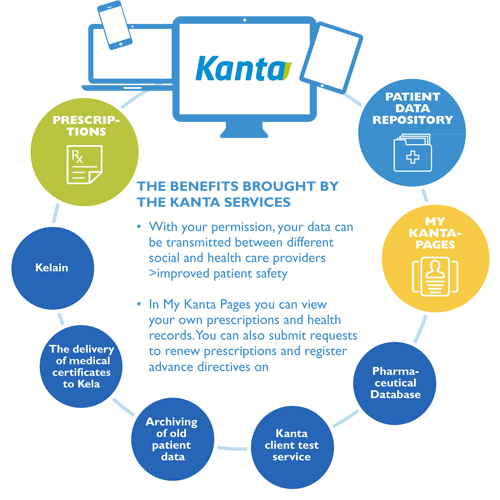 Prescriptions
The electronic prescription was deployed as early as 2010, when the first electronic prescriptions were issued. Today we simply talk about prescriptions, as they are now issued on paper only in exceptional circumstances.
In practice, the service follows the following formula: A doctor issues a prescription to a local patient records database, which is linked to the Kanta system. The details are saved in the Prescription Centre, from where pharmacy staff can access the prescriptions using their professional card. Patients obtain their medications at the pharmacy by showing e.g. their Kela card.
The electronic prescription has been a definite leap ahead in terms of patient safety. Patients avoid overlapping prescriptions and management of the overall medication regimen is improved with all the prescriptions being centralised in one place, regardless of whether issued by a public or private healthcare unit. Protected data transfer guarantees the safety of the operation.
Patient Data Repository
Healthcare professionals use the Patient Data Repository daily. Like prescriptions, the information comes to Kanta via a local system. The Patient Data Repository permits secure sharing of information between healthcare organisations.
The Patient Data Repository contains patients' medical records: diagnoses, results of laboratory tests and X-rays, and critical medical information. Dentists are also slowly starting to enter oral health records.
Like electronic prescriptions, the Patient Data Repository increases patient safety, as the system allows all those involved in a patient's care to access all necessary and critical information. The treating party can make use of previous results and reports, thus avoiding unnecessary new investigations. However, this is only possible if patients have consented to their information being shared. In fact, the Data Management Service is part of the Patient Data Repository and contains patients' consents and refusals to use their information.
A further function of the Patient Data Repository is the forwarding of medical certificates to Kela. This means a service through which doctor's certificates can be sent through the Kanta Services to Kela for processing.
More about the Patient Data Repository
My Kanta Pages
Citizens log into My Kanta Pages with their online bank IDs, mobile certificates, or electronic ID cards. My Kanta Pages permit access to all recorded prescriptions and the medical records entered in the Patient Data Repository.
My Kanta Pages contain a lot of information about prescriptions. You can search for prescriptions on different search criteria, such as validity period. There are precise details on every prescription: the drugs prescribed, when the prescription was issued, who issued it and where the medicine was collected. My Kanta Pages also allows sending a prescription renewal request to the healthcare unit of your choice.
My Kanta Pages shows the same information as that entered in the Patient Data Repository: medical records, critical risk information, with oral health records the most recent addition. The medical records include test results and their normal ranges, making it easy to compare your own results. In the future, vaccination details will be among the data included in the centralised medical records.
Consents and refusals to disclose one's details are managed through My Kanta Pages. Individual restrictions on access to the data can also be set up. The service also has a section for log data, should you want to know where your records have been viewed and to request further information, if necessary.
You can enter your organ donation testament and living will in My Kanta Pages, from where they are passed on to the health services via the Data Management Service.
A parent or guardian can also view the records of children under 10 in My Kanta Pages. The right of parents to access children's records is checked from the Population Register Centre. A facility of acting on someone else's behalf is also on the way, for example when looking after aged parents' affairs.
More about My Kanta Pages or view your records by logging into the service
Pharmaceutical Database
The Pharmaceutical Database is designed for use in issuing prescriptions in the healthcare services and in dispensing and direct reimbursement functions in pharmacies. This Kanta service contains the necessary information on drugs required in order to prescribe and dispense them, including their price, eligibility for reimbursement, interchangeable drug preparations, reimbursable base creams and clinical nutrition preparations, as well as other groups of preparations specified in the decrees. The particulars of a drug on an electronic prescription must match those in the Pharmaceutical Database. The prescription and dispensing software must be updated with the information from the Pharmaceutical Database on the 1st and 15th day of each month.
Kelain
A further Kanta service is Kelain, which is a prescription service designed for small healthcare units. As an example, the service may be used free of charge by doctors who issue prescriptions as a professional right, but without financial gain. A self-employed professional may also use Kelain subject to a monthly charge of EUR 120.
Kanta Services in the future
The Kanta Services are under constant development. Some healthcare units are already using the Archive for Old Patient Data, which facilitates the statutory archiving required from healthcare operators. In addition, the Kanta Services will soon include client details from the social services, starting this spring. The next blog will take a closer look at future Kanta Services.
Further information