Asset Publisher
Number of users of My Kanta Pages clearly increasing
The number of My Kanta users continues to grow – year 2018 the number was over 2.1 million.
When My Kanta Pages was introduced in 2010, it had a total of 690 users during the year. Since then, the number of users of the service has increased at a fast pace. In 2011, the service was used by more than 10,000 people, and in 2012–2014 the number of users increased year by year by hundreds of thousands until in 2015 it exceeded one million (1.1 mill.). In 2016, there were about 1.5 million users of My Kanta Pages, and in 2017 the figure was about 1.8 million.
Last year, My Kanta Pages was already used by more than 2.1 million people: the number of visitors increased by 16 per cent on the previous year. The number of logins also increased significantly on the previous year: logins to My Kanta Pages were up by 27 per cent, a total of 16.8 million. The average number of users each month was more than 600,000 different people, with about 1.4 million logins per month.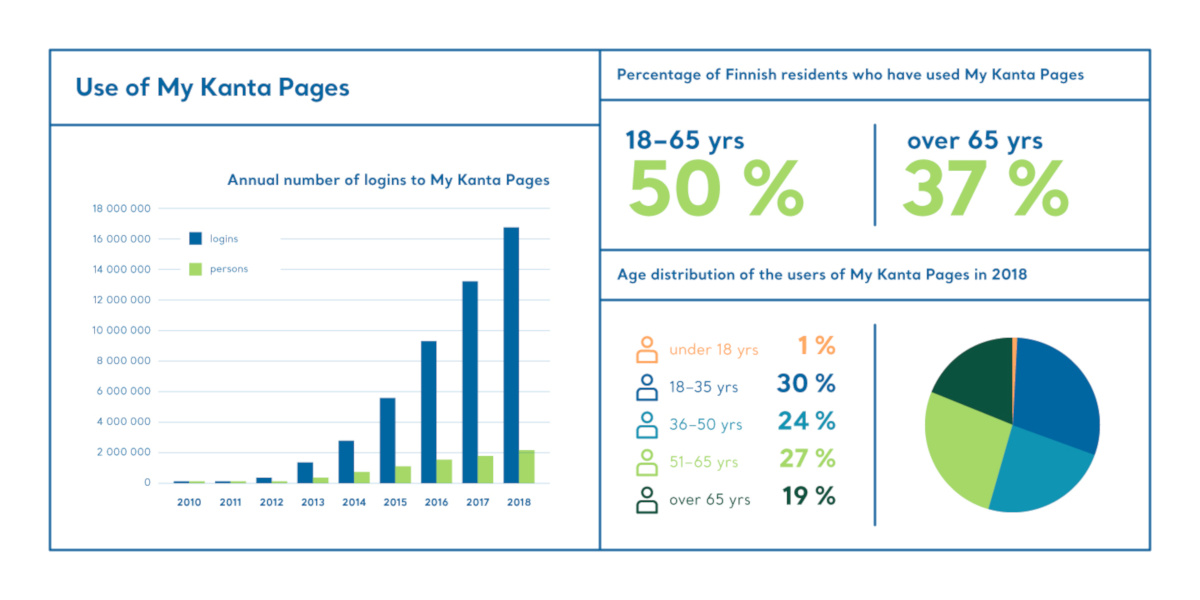 "The use of My Kanta Pages has continued to grow. For example, the fact that the healthcare services have increased their use of the Kanta Services has been a contributing factor. A growing number of healthcare organisations record information in the Kanta Services, which means that the data is also accessible to more and more users through My Kanta Pages," explains Sari Ahonen, Customer Relations Manager for My Kanta Pages.
The My Kanta Pages service has now been used by half of those aged 18 to 65 years of the entire population (50%) and one-third of the over-65s (37%). In 2018, the majority (30%) of the users of My Kanta Pages were aged between 18 and 35. The next largest user group were those aged 51 to 65 years (27%) and the third largest group were the 36 to 50 year-olds (24%). People over 65 years of age accounted for 19 per cent of all users. Only 1 per cent of users were under 18 years of age because a large number of minors do not have the required login details to register in the service.
My Kanta Pages is a citizens' own online service that shows the patient's information and medication recorded by healthcare services. Further information and registration into My Kanta Pages.