null
Kanta Services popular among citizens and professionals – year 2019 in a nutshell
Kanta Services popular among citizens and professionals – year 2019 in a nutshell
The Kanta Services has established itself in the everyday lives of citizens and healthcare professionals. Its user numbers are still growing rapidly. My Kanta Pages had more than 20 million logins during last year.

My Kanta Pages is an online service where everyone can view their own health data and prescriptions. The service can also be used for requesting a repeat prescription and recording a living will.
During 2019, My Kanta Pages was used by more than 2.3 million Finns. The number of visits increased by almost a quarter compared with the previous year. In November 2019, the service hit an all-time monthly record with a total number of visits of 1.96 million.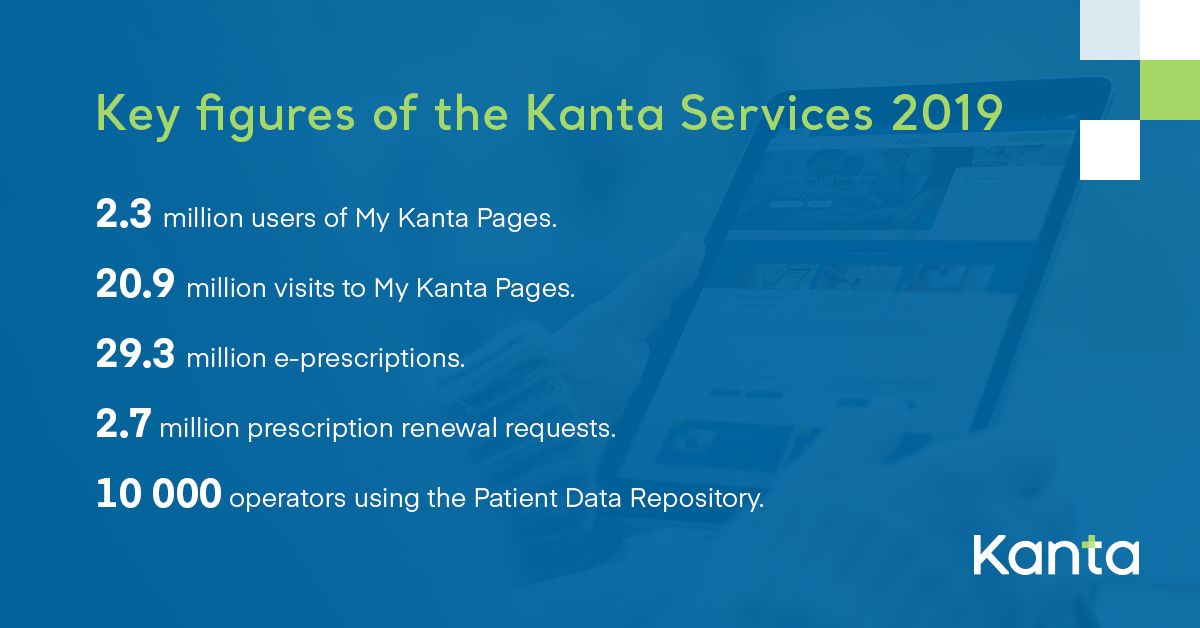 Smooth flow of information improves patient safety
One of the cornerstones of the Kanta Services is the Patient Data Repository, in which patients' medical records are saved to be available for all healthcare providers. The records can be viewed by citizens on My Kanta Pages.
Smooth flow of information between professionals improves patient safety and quality of care. In 2019, the Patient Data Repository was used by about 10,000 healthcare professionals. New records added to the service were the optometry patient data, and some opticians joined the Kanta Services.
During 2019, preparations were also made to include social welfare data in the Kanta Services more extensively than at present. The Kanta Services facilitates the work of social welfare professionals, providing a better overall picture of the client's situation.
Finnish prescriptions dispensed in pharmacies in Estonia
In 2019, about 26 per cent of all requests for repeat prescriptions were made via My Kanta Pages, a total of more than 2.7 million requests. The number of all e-prescriptions issued during the year was 29.3 million.
Currently, it is also possible to purchase medicines with a Finnish prescription outside the Finnish borders. Finnish prescriptions became valid in Estonia in January 2019 and in Croatia in June 2019. Other countries are also gradually joining the service.
Kanta.fi is a well-known and highly valued online brand
According to a survey published by the market research company Taloustutkimus, the kanta.fi online service was the third-most valued Finnish online brand in 2019. This ranking was the same as in the previous year.
Kanta.fi increased its valuation index, bypassing even Google. The user satisfaction index also grew compared with the previous year. The contents and usability of the kanta.fi website are developed constantly.
Kanta attracts interest in other countries
The Kanta Services is a Finnish success story in the digital world, attracting wide interest also in other countries. In 2019, the Kanta Services were presented in several international events, and the Kanta work was demonstrated to many delegations visiting Finland.
Kanta Services is developed in cooperation between Kela, the Finnish Institute for Health and Welfare, the Ministry of Social Affairs and Health, and other operators in the sector.