null
More than half of all Finnish residents use My Kanta Pages – user numbers have grown especially during the corona outbreak
More than half of all Finnish residents use My Kanta Pages – user numbers have grown especially during the corona outbreak
The popularity of My Kanta Pages is constantly increasing. Last year, the web service was used almost 21 million times. During the corona pandemic, its popularity has increased even further.
My Kanta Pages was used by a total of 2.4 million Finnish residents in 2019. The number of logins showed a great jump, up by a quarter compared to the previous year. This spring, the number of logins has increased at an ever faster rate.
"It can be said that My Kanta Pages has established itself among Finnish residents, and the coronavirus situation has probably been the reason for the further increase in logins," says Kela's Mari Holmroos, Customer Relationship Manager for My Kanta Pages.
Based on user studies, My Kanta Pages is used for looking up personal health data, viewing the results of laboratory tests and also for requesting repeat prescriptions.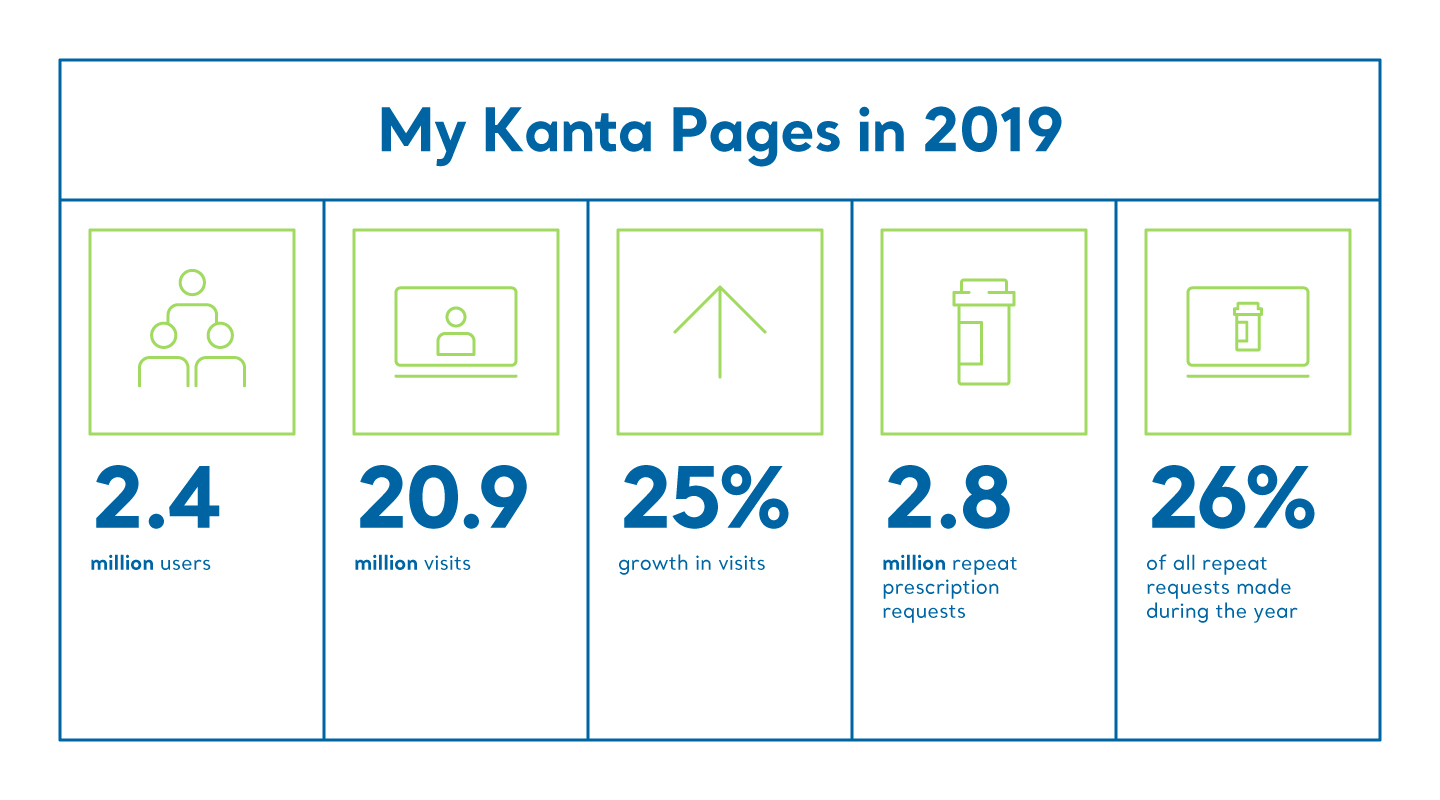 Importance of digital services is emphasised during the exceptional situation
By March this year, logins to My Kanta Pages had totalled 2.3 million. The increase is considerable compared to last year when the average number of logins in a month was 1.7 million.
According to Holmroos, news about the coronavirus outbreak has resulted in clear peaks in logins to My Kanta Pages. The phenomenon of the current time is that people want to be able to access information straight away.
"Finnish people are interested in health-related issues now more than ever. Digital services help people to manage their affairs while staying at home, and many want to avoid unnecessary visits to the doctor at this time," Holmroos explains.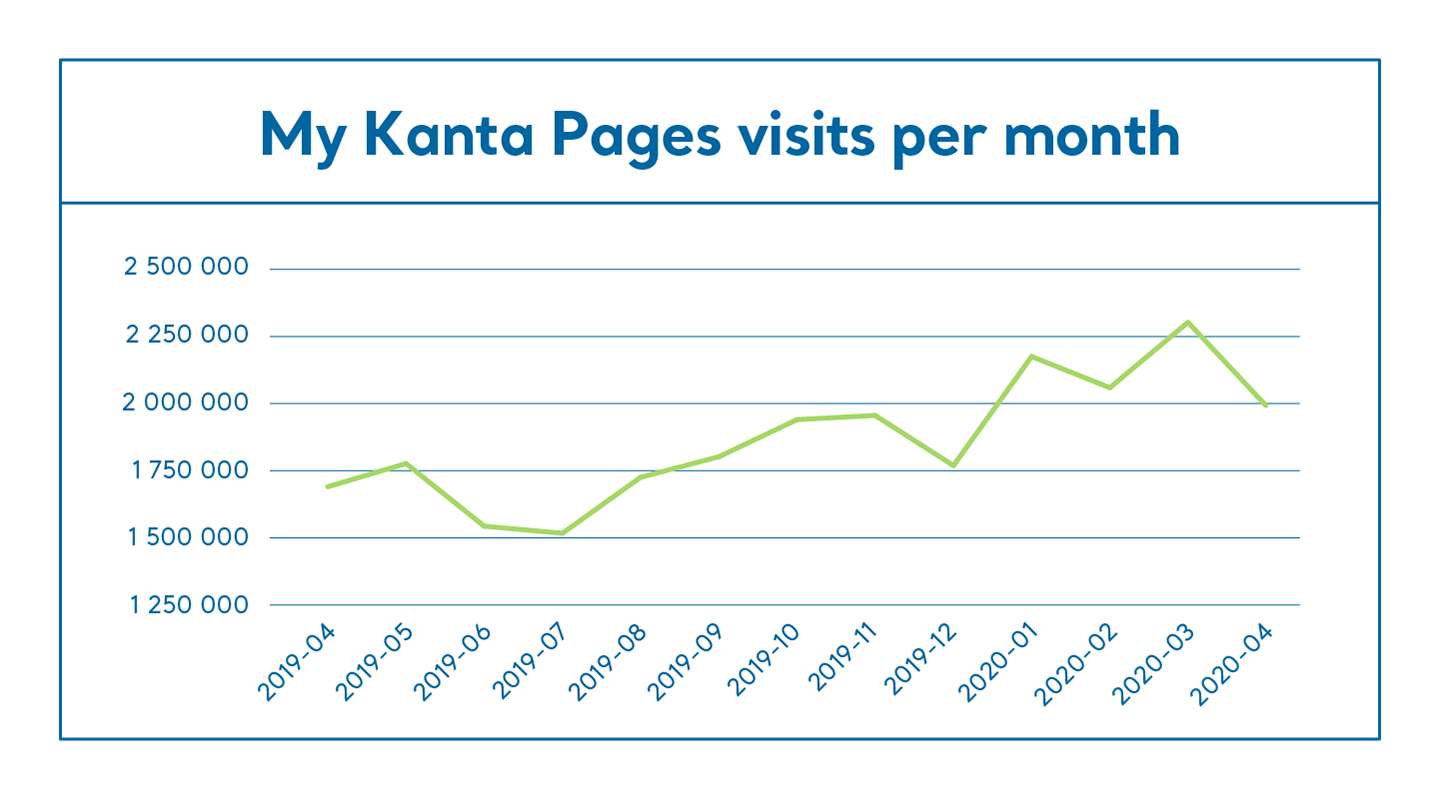 Senior citizens are also using My Kanta Pages
Almost 60 per cent of 18 to 65 year-olds used My Kanta Pages in 2019. The figure was 44 per cent for those over 65.
"It is great to see that older people have also taken to using My Kanta Pages. The service may be of great benefit for them, too, especially if they have frequent visits to healthcare services. In My Kanta Pages, the health data is safe and there is no need to hold on to paper copies in the same way as before," Holmroos describes.
In My Kanta Pages, information is well protected. "Outsiders cannot see the health data of another person," Holmroos points out.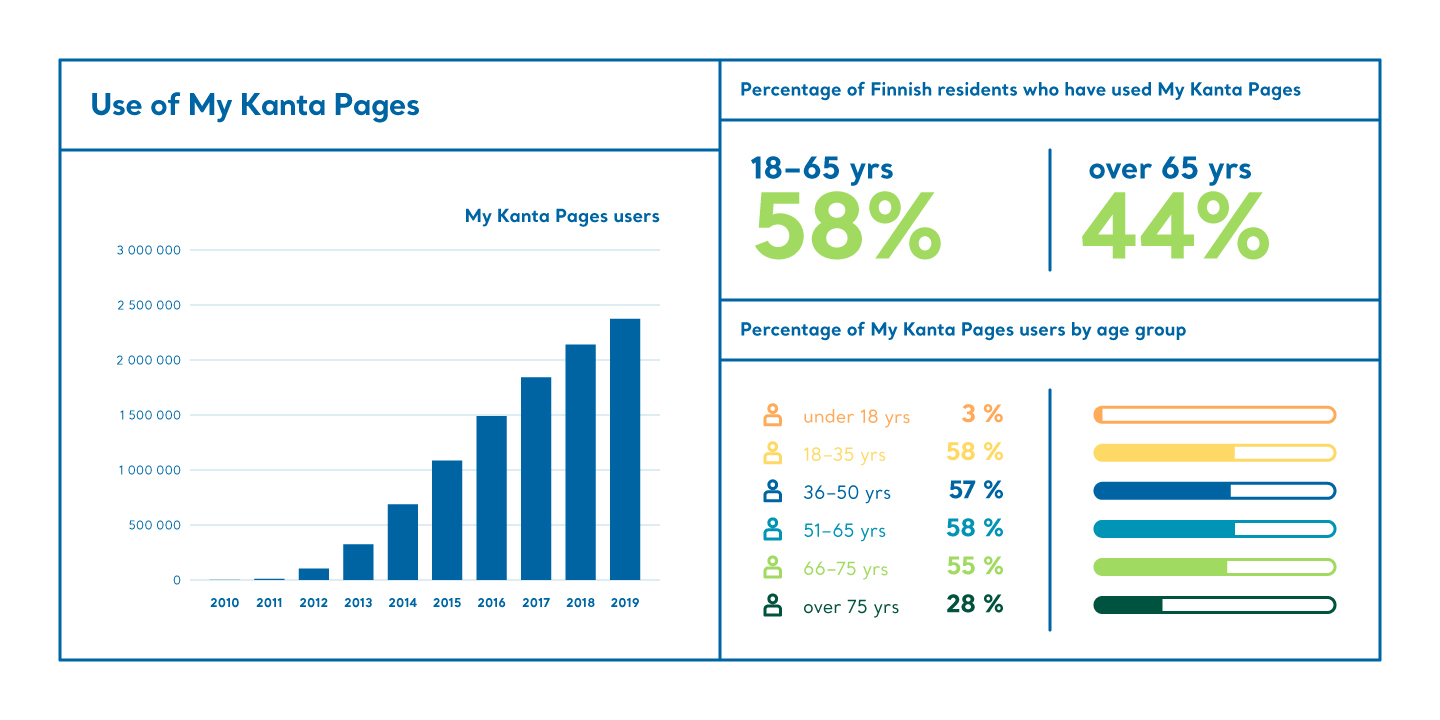 My Kanta Pages is a developing service – new features are on the way
My Kanta Pages is an online service aimed at citizens, showing the patient's information and medication recorded by healthcare services. This May marks the 10th anniversary of the deployment of My Kanta Pages. The Kanta Services are actively developed.
For example, an increasingly wide range of eye care data is now available in My Kanta Pages since major opticians have joined Kanta. An extensive reform is underway in terms of social welfare data when it can be viewed as part of My Kanta Pages in the future.
The rights of parents and guardians to view the information concerning underage children in My Kanta Pages will extend to children over 10 years of age. This will still require extensive changes in the patient data systems and operating models in social welfare and healthcare services. The objective is that the first healthcare units will deploy the new operating method during the current year.
Further information:
Customer service for citizens: asiakaspalvelu@kanta.fi
Further information for professionals: kanta@kanta.fi