Number of users of My Kanta Pages by municipality
About half of the total adult population in Finland have used the My Kanta Pages service. In 2018, the service was accessed by more than two million people, and just under a quarter of them (23%) live in the Helsinki region.
Helsinki residents account for the highest number of users of My Kanta Pages (13%). Other towns with the most users after Helsinki are Espoo, Vantaa, Tampere, Oulu, Turku, Jyväskylä, Kuopio, Lahti and Joensuu. Forty-four per cent of the users of My Kanta Pages live elsewhere than in the above-mentioned towns.
Users of My Kanta Pages would like to be able to access their information in the service as quickly as possible after a visit to the healthcare services.
"In the customer satisfaction survey, one of the biggest wishes was that the results would be available in My Kanta Pages sooner than at present. Only the healthcare professionals and organisations can help in this by recording the data in the Patient Data Repository at a faster rate. Currently, the differences in the speed of archiving the data vary from one day to up to about two weeks," says Development Manager Outi Lehtokari of the National Institute for Health and Welfare.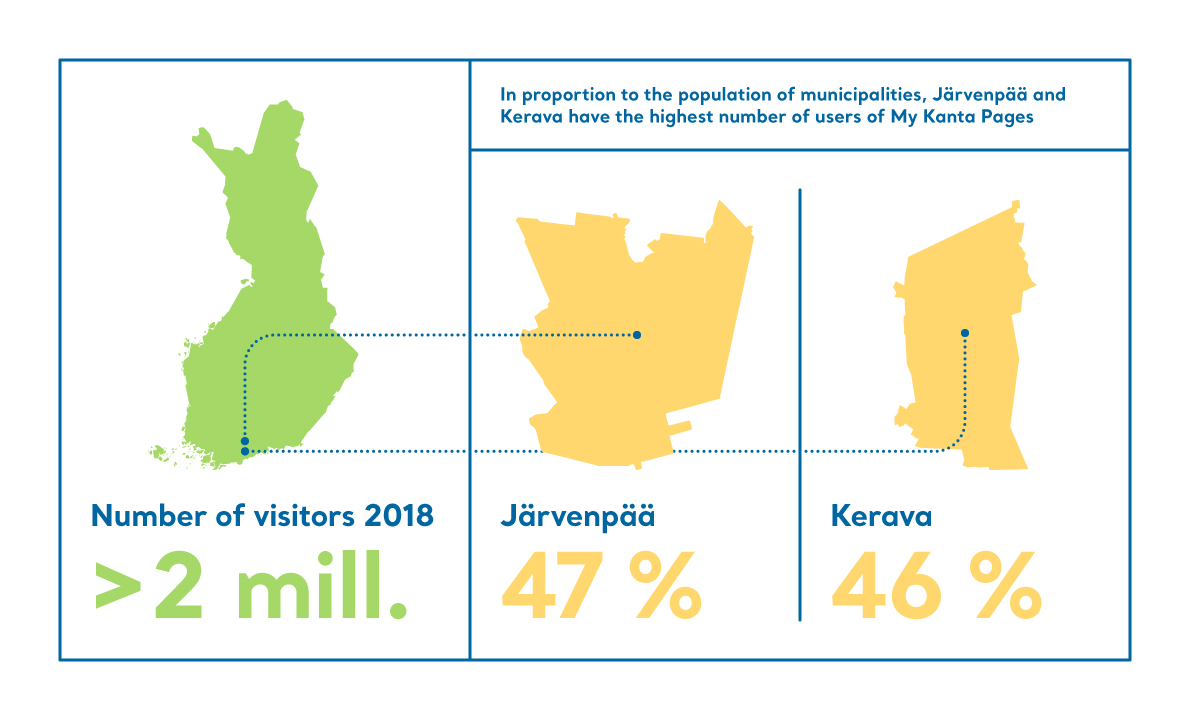 In all of the ten largest municipalities, the users of My Kanta Pages account for about 40 per cent of the municipality's population (varying between 39 and 45 per cent). In proportion to the population of these municipalities, Järvenpää (47%), Kerava (46%), Kuopio (45%), Ylivieska (45%) and Hyvinkää (45%) have the highest number of users of My Kanta Pages. Why do certain municipalities have proportionately more users than others?
"Differences in the number of users may be due, for example, to the fact that some healthcare organisations have made more of an effort to provide information and advice to their customers in the use of My Kanta Pages. Furthermore, if there is a long delay in the archiving of data in the healthcare services, the residents may not necessarily utilise My Kanta Pages. In some regions, the data content to be archived is also more limited than elsewhere. For example, some municipalities are not yet archiving the results of laboratory tests," Lehtokari explains.
Users of My Kanta Pages in different municipalities in 2018 (PDF, in Finnish).
Read up on My Kanta Pages