How to get help with your pharmacy needs during the corona virus pandemic
Coronavirus - Citizens
Written on 24.03.2020
All notices
If you are experiencing symptoms similar to a common cold, do not go to the pharmacy. That way you will not pass the virus on to other customers or the staff. Persons over 70 should remain at home for the time being. You can order medication and handle other pharmacy-related matters online or with the help of a family member or a friend.
If you have flu symptoms, we advise you to sign up with an online pharmacy. Check if you can order the medication you need and have it delivered to your house.
A legal Finnish online pharmacy can be identified by the pan-European logo (see below). More information on the internet trade in medicines can be found on the page of Finnish Medicines Agency Fimea (fimea.fi).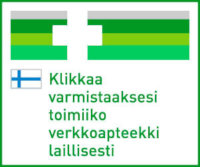 Ask a family member, friend or neighbour to help you
You can ask a family member or a friend or neighbour to go to the pharmacy to pick up the medicines you need. See below for instructions on how to pick up prescription medicines. There are two ways to do this:
1) Using Suomi.fi authorisation
If you want to authorise another person to pick up your prescription medicines, go to the Suomi.fi online service and authorise that person to act on your behalf in pharmacy-related matters. You must also provide the person in question with your personal identity code and the name of the medicine you need. The authorised person only needs to bring his or her own ID.
2) Using a Kela card or a patient instruction sheet
Another person can pick up your prescription medicine from the pharmacy, if you give him or her your Kela Card or your patient instruction sheet. You must also tell him or her the name of your medicine.
You can call the pharmacy but only in exceptional situations
If you have no other options, you can also handle your matters related to prescriptions by phoning, but only in exceptional situations. The pharmacy will deliver your medicine to a collect point or directly to your house. It is only possible to order medicines prescribed for yourself by phone. It is not possible to order medicines for someone else by phoning.
If there is no other way, you can contact your local authority to get help with picking up your medicines. A municipal carer can e.g. pick up your medicines and other products from the pharmacy. Contact your local authority for advice and instructions.
Only buy what you actually need
Do not buy more medicines than you really need. Prescription medicines can, for the time being, be acquired for a maximum of three months' supply. Customers can only buy one package of self-medication products.
There is an adequate supply of medicines in stock to last throughout the pandemic. By introducing restrictions, an adequate supply of medicines is ensured in all regions of our country.
Additional information: